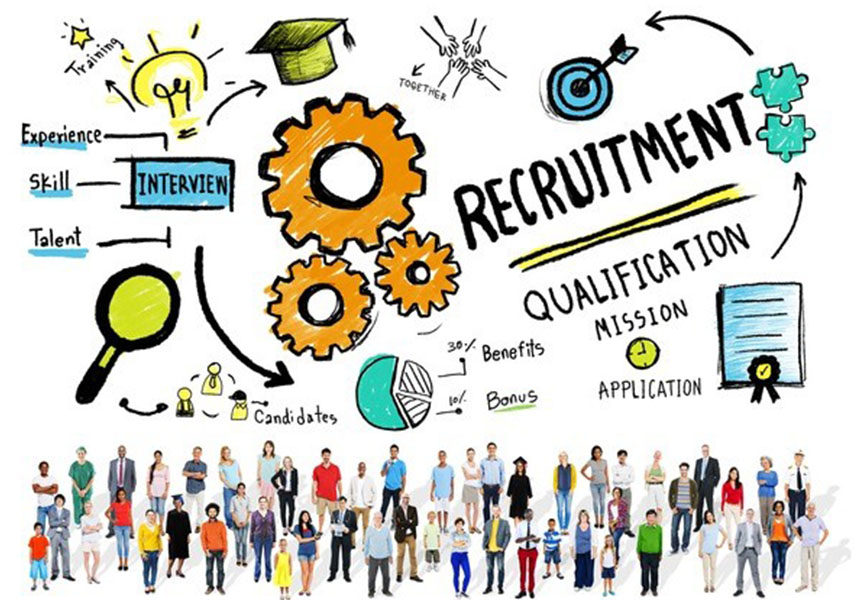 Recruitment Process
Finding work overseas is a challenge now a days. National Industrial Corporation is top tier & best claimed Overseas Job Consultant organisation. We help our candidates get jobs and find work overseas. Some countries offer open work permits and others offer job based work visas. We offer both the options to it's clients and candidates. Get the Industry's Best services, Best counseling for different countries worldwide. Find the right overseas career partner and choose the best abroad career consultant in India.
Getting placed in a reputed organization abroad is a big career opportunity that can transform your dreams into reality. Be it in a Middle Eastern country, European country, or a country in America or Asia, there are plenty of overseas jobs in different countries for professionals in all trades. One has to aim higher and see bigger dream to find ideal jobs abroad. A passion to work abroad and the ability to adapt to changing surrounding are also essential to make a successful career in a foreign land. One can easily find all types of jobs like IT jobs, finance jobs, accounting jobs, HR jobs, engineering jobs, sales jobs, nursing jobs etc., in a foreign country through NIC.
To begin with, the Employer and National Industrial Corporation (NIC) shall execute an agency agreement between them stating adequately the terms and conditions regarding demand and supply of manpower from India. this agreement should be signed by both the parties towards acceptance of stated terms and conditions upon which the manpower trade will be executed.
Employer's Part
eMigrate Registration: Govt. of India has started an on-line system for helping Foreign Employers (FE) of 17 countries to employ Indian workers to their respective countries and Foreign Employers (FE) shall mandatorily register their companies on www.eMigrate.gov.in to proceed further to recruit manpower.

Currently employers from these countries can only register: (1) United Arab Emirates (2) Kingdom of Saudi Arabia (3) Qatar (4) Oman (5) Kuwait (6) Bahrain (7) Malaysia (8) Libya (9) Jordan (10) Yemen (11) Sudan (12) Afghanistan (13) Indonesia (14) Syria (15) Lebanon (16) Thailand and (17) Iraq.
All employers from above countries who seek manpower through our Agency, are humbly requested to register themselves and raise the demand through www.eMigrate.gov.in. Our code is RA5274602. Employers from other countries shall follow the below mentioned system / format without registering on www.eMigrate.gov.in.
Demand Letter
The employer/principal shall formally issue a demand letter in favor of NIC stating the job categories, number of workers required in each category, monthly salary, duration of contract and other amenities for workers such as food, medical, transport, air passage, accommodation, etc.
Download
Power of Attorney
The employer/principal shall issue a power of attorney in favor of NIC that NIC is their bona fide Manpower recruiting agent fully authorized to deal with all visa matters, submissions and deliveries in India.
Download
Specimen Work Agreement
This is a standard/specimen employment contract between employer and employee which is required to get emigrant clearance from Emigration authorities (Protector of Emigrants - PoE) in India.
Download
All above three documents shall be sent to NIC in original duly signed and stamped by authorized person of Company.
Our's Part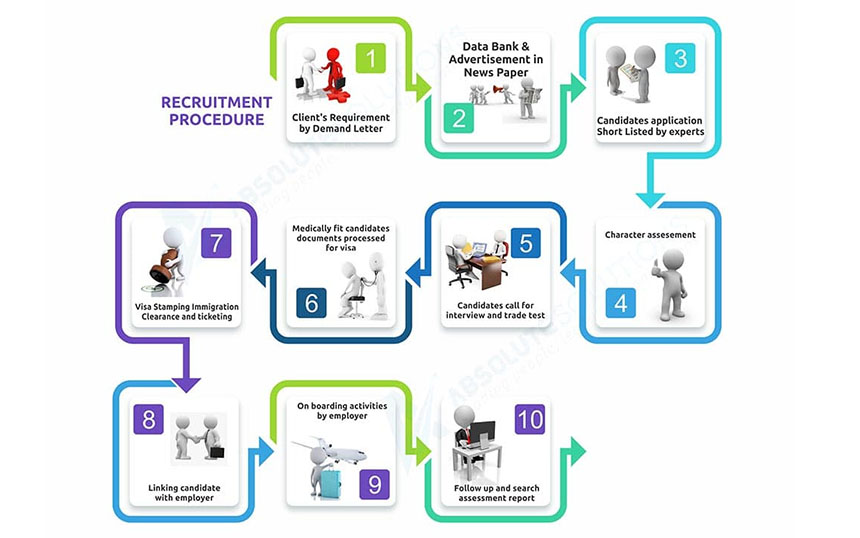 (1) We will justify the client's recruitment as per their Emigrate Registration, Demand Letter, Power of Attorney, Work Agreement, also we will evaluate the terms, conditions, job description, salary description etc related with the job order copy along with Employer's letter & agreement.
(2) We will advertise the demanded job order in the Newspapers, Websites, Local Cable TV, Display Boards and other network Connections. Also, we will offer the demanded job order to the trained and enrolled candidates who have been already registered in the Data Bank of our subsidiary's skill training Institutes.
(3) We will short list the Candidate's application & link up for interview through our admission & registration process.
(4) We will evaluate the candidates by our expert team members towards the eligibility for the final interview for skill training or trade test through our subsidiaries Institutes and Trade Test Centre.
(5) We will arrange the final interview by our expert team members for evaluate the eligibility for trade test or skill training and select the candidate's as per our training & selection process. In terms & condition if required any practical test/interview by the employer or his authorized representative. We arrange his/their all-logistics support required for the purpose.
(6) We will send the selected candidates for medical checkup by the authorized medical center of the respective Embassies of the country of employment. After passed the medical checkup and we will process all documents for VISA processing in the respective embassy as authorized by the employer.
(7) We obtain visa stamping & emigration clearance from the concerned PoE for the candidates. The employer may send tickets to facilitate travelling as scheduled.
(8) We will link the candidates with the employers for necessary steps to be taken from both side for travelling aboard.
(9) We will provide basic orientation to workers/candidates before travelling abroad. The workers are informed about their duties and responsibilities while abroad and a first-hand information of work environment there & salient features of labour laws of the country of employment.
(10) We will follow up gradually the candidates & employers and assess the full report after landing –to-all settlement time to time.