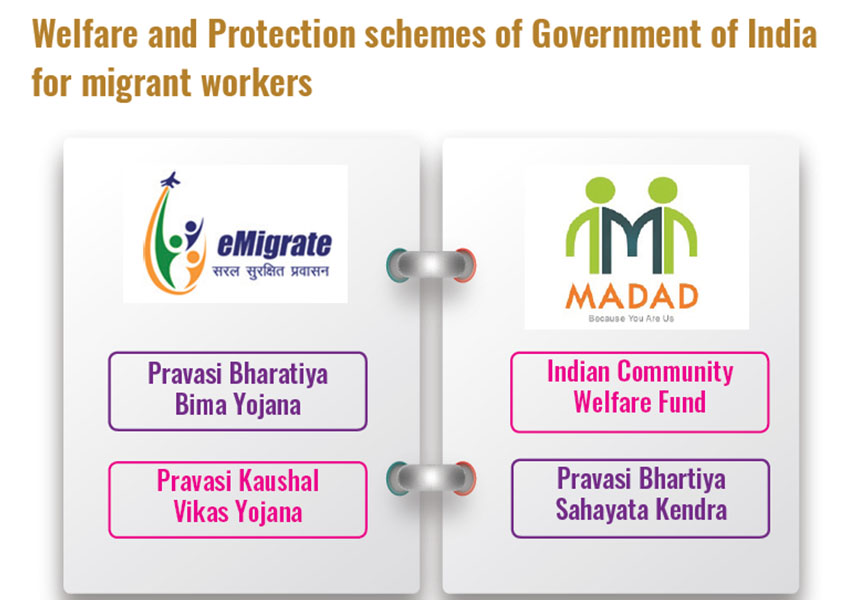 Pravasi Bharatiya Bima Yojana (PBBY)
The Pravasi Bharatiya Bima Yojana (PBBY) is a mandatory insurance scheme aimed at safeguarding the interests of Indian emigrant workers falling under Emigration Check Required (ECR) category going for overseas employment to ECR countries. The Scheme, initially launched in 2003, has been amended in 2006, 2008 and 2017 with the overarching objective of strengthening the coverage of emigrant workers .
Indian Community Welfare Fund (ICWF)
The Indian Community Welfare Fund (ICWF), set up in 2009, is aimed at assisting Overseas Indian nationals in times of distress and emergency in the 'most deserving cases' on a 'means tested basis'. ICWF has also been a critical support in emergency evacuation of Indian nationals from conflict zones, countries affected by natural disasters and other challenging situations. In view of its immense utility, ICWF stands extended to all Indian Missions and Posts abroad.
Pravasi Kaushal Vikas Yojana (PKVY)
The 14th Pravasi Bharatiya Divas (PBD 2017) being held in Bengaluru from 7th – 9th January 2017 saw an important announcement about skilling the youth for overseas employment. Hon'ble Prime Minister Shri Narendra Modi stated that "Pravasi Kaushal Vikas Yojana (PKVY)" would be an exclusive program to train Indians seeking jobs abroad. It will train them in suitable skill sets that address the requirements in communication, trade specific knowledge and skills along with cultural orientation.
Pravasi Bharatiya Sahayata Kendra (PBSK)
It is a welfare initiative of Government of India to provide support to Indian Expatriates in need. PBSK, Dubai started its operations from 23 November 2010.
Due to the operational and access difficulties being faced by the Indians, especially blue collar workers, who used to hesitate in reaching out to JLT clusters and also the way in which overall working scenario has changed, Govt of India shifted the operations of PBSK to the premises of the Indian Consulate from Nov 1, 2020.
Embassy of India, Abu Dhabi and CGI Dubai remain deeply committed to the welfare of all Indians living in UAE with an assurance that whatever problems an Indian national is facing, we are just a phone call away, or a visit (in case of need) to the PBSK Centre in Dubai which is located in heart of the city, well connected by public transports like metro and inter-Emirates bus services.